FALL 2023
Funded by the Dan Lucas Memorial Fund.

Contact Bill Bares with questions: wbares@unca.edu
UNCA Loves Piano Series
All concerts presented in Lipinsky Hall Auditorium – UNCA Campus
3:00 PM

Justin Ray / Bill Bares Recital
Sunday, December 3 – 3:00 PM

$15.00 for general admission Ticket
Students and UNCA Faculty Free
Tickets:https://our.show/uncalovespiano2023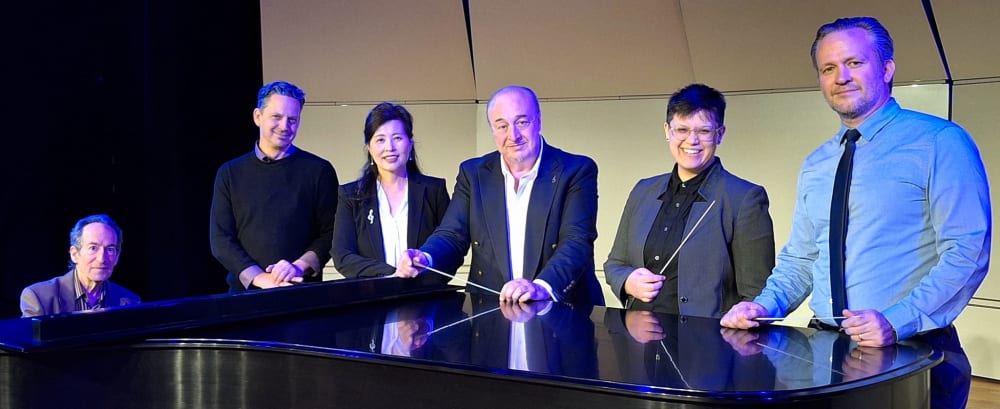 Rhapsody 100
with Hwa Jin Kim, Justin Ray, Emily Eng, Richard Shulman, Bill Bares & Russ Wilson
A crown jewel of the 2023-2024 UNCA Loves Piano concert series, this once-in-a-lifetime event entitled "Rhapsody 100 (The Experiment Continues)" features a full orchestra, a jazz combo and distinguished soloists/conductors. The first set reprises, note-for-note, several concert pieces played at the February 12, 1924, concert at Aeolian Hall in NYC called "An Experiment In Modern Music" — the concert that debuted George Gershwin's immortal "Rhapsody In Blue." These selections will be directed by Asheville's "godfather of jazz" Russ Wilson, with the Rhapsody piano part played by Dr. Hwa-Jin Kim. The second set includes new and original works and arrangements from pianist/composer Dr. William Bares, trumpeter/composer Justin Ray and pianist/composer Richard Shulman, with Dr. Emily Eng conducting.
The original 1924 concert brought together jazz and classical music in ways that have been characterized as uniquely "American." Similarly, this 100th anniversary gala concert will bring together talented UNCA faculty and esteemed musicians from the greater community in an "Ashevillean" spirit of musical experimentation. A true a celebration of community, continuity, and creativity, there may be no better time, place or setting to enjoy Gershwin's timeless classic.
Sunday, February 4, 2024
3:00 pm
Lipinsky Hall Auditorium – UNCA Campus
Rhapsody 100 General Admission: $35.00
Rhapsody 100 Student / Faculty / Staff: $5.00
Buy tickets here: https://our.show/rhapsody100tickets