UNC ASHEVILLE DEPARTMENT OF MUSIC – FALL 2022
Find us on Facebook UNCA Music

All Events are Free and open to the public unless indicated.
Donations to the Department of Music scholarship fund are accepted.
LIVE AT LUNCH
Thursdays – starting March 16
12:00 pm
Reed Plaza/UNCA Highsmith Student Union
March 23 – Bluegrass Ensemble and the X-tet Jazz Ensemble
March 30 – Latin Jazz Ensemble and the AfroMusics Ensemble
April 6 – Hot Club Lipinsky and the Honky Tonk Ensemble
April 13 – Songwriters Ensemble and the Studio 18 ***LOCATION TBA – might be in front of Lipinsky
April 20 – Chamber Music Ensemble and the Breakfast Club Ensemble
Noontime Classical Music with Dr. Kim series #1
Beethoven and His Women
Thursday, February 2
12:00-12:30 PM
Lipinsky Auditorium
Faculty Showcase Concert
Thursday, February 9
7:00 pm
Lipinsky Hall Auditorium/UNCA Campus
The

Faculty

Showcase

Concert will feature the diverse performative talent that our music

department

comprises.
With a wide variety of musical genres, this concert is a great way to get to know us and also to have a great time!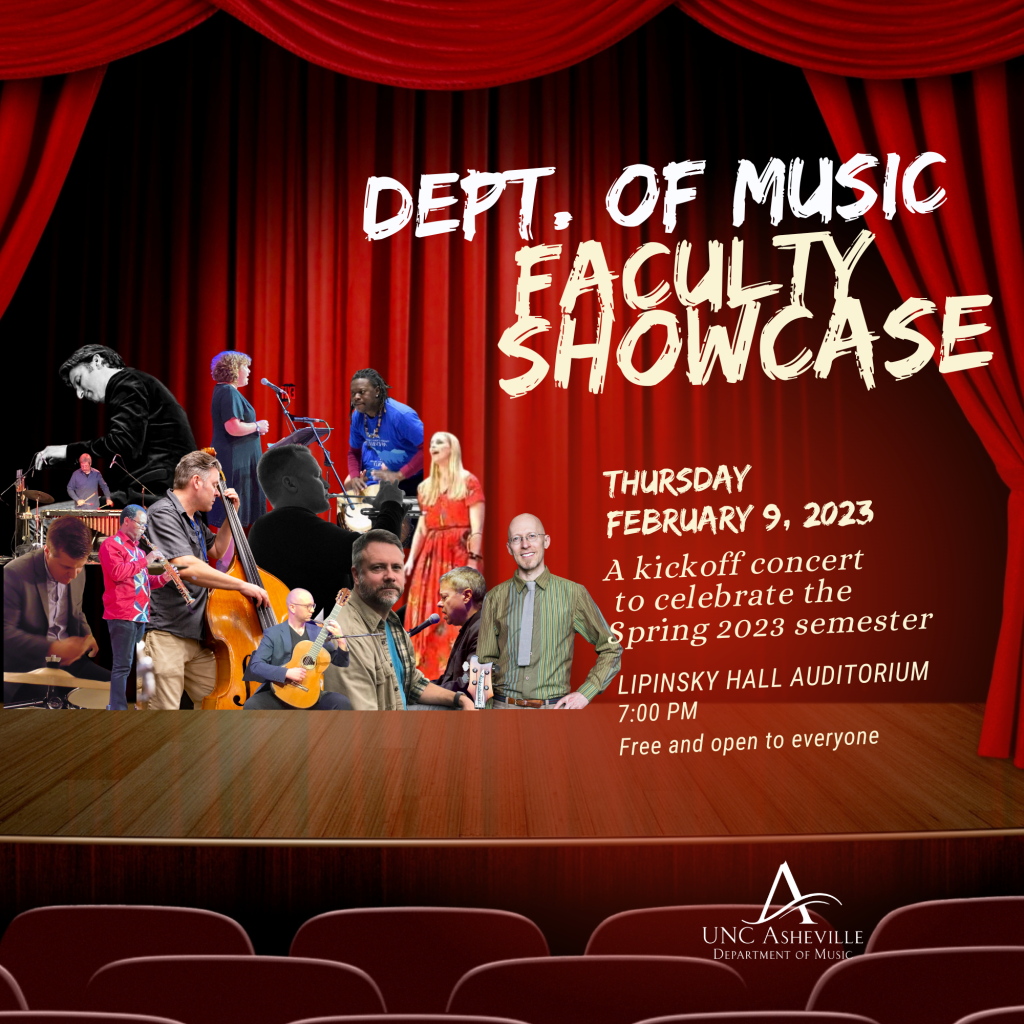 The Department of Music welcomes:
Nicola Cipriani & Brad Myrick
international acoustic guitar duo masterclass
Friday, February 17
3:00 pm
Lipinsky Hall, Room 044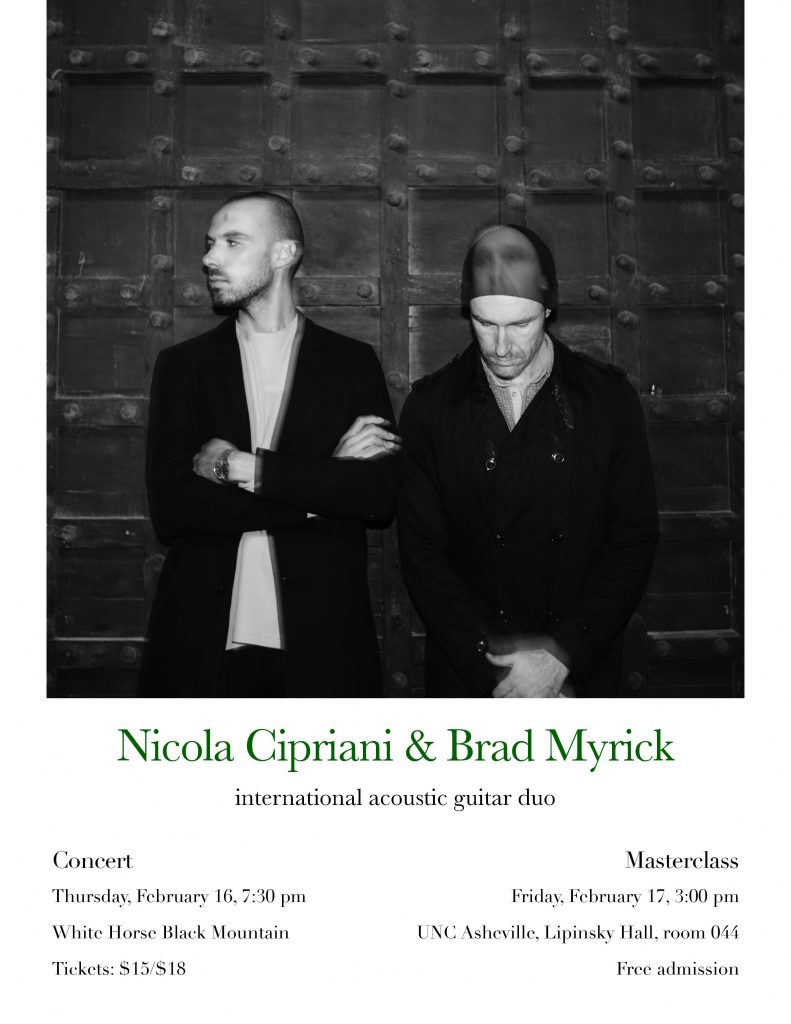 "Cutting Grooves with Chris Mara"
9:30 am
Thursday, February 23rd
Karpen Hall / Laurel Forum
Established in 2008 by husband and wife team Chris and Yoli Mara, Welcome to 1979 has grown to become a multi-faceted recording studio integral to the Nashville community. The 13,000-square-foot facility is housed in a former record pressing plant; the music history hits you as soon as you step foot in the door.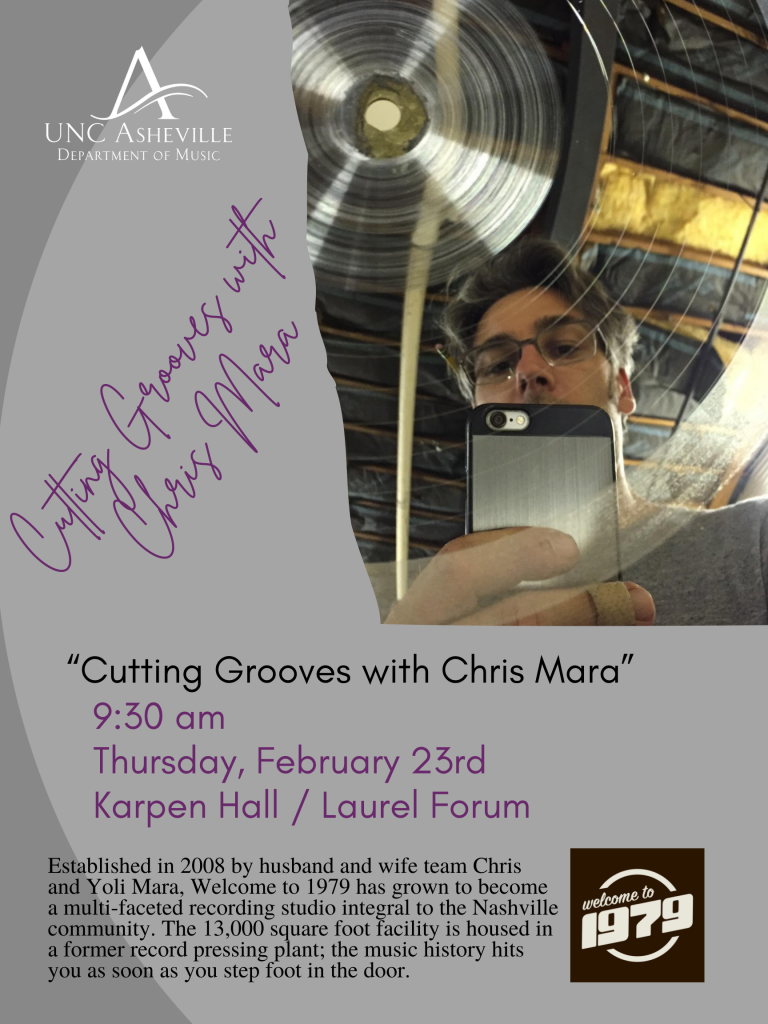 UNCA Loves Piano series presents
Martin  Bejerano
#CUBANAMERICAN TRIO
The UNCA Department of Music welcomes pianist Martin Bejerano and his #CubanAmerican Trio,
playing selections from the Latin Grammy-nominated 2022 release #CubanAmerican.

CONCERT
Lipinsky Hall
February 23, 2023
8:00 PM
Concert Reservations please send an email to wbares@unca.edu
WORKSHOP
Lipinsky Hall Room 018
February 24, 2023
9:30-10:45 AM
All EVENTS are free and open to the public.
What Love Can Do
University Chorale and UNCA Wind Ensemble
Sunday, February 26
3:00 pm
Lipinsky Hall Lobby/ UNCA Campus
Chuck Taft and Emily Mariko Eng, directors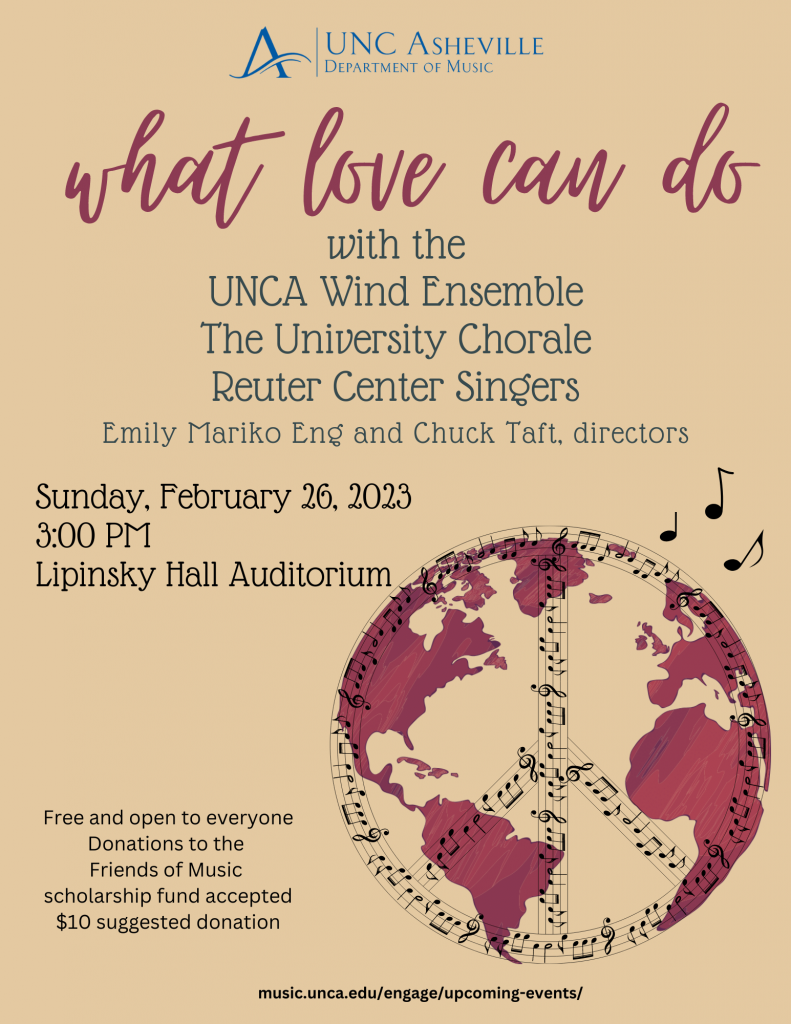 Blue Ridge Orchestra
Milton Crotts, conductor
Sunday, March 5
3:00 pm
Lipinsky Hall Auditorium, UNCA Campus
GO TO www.blueridgeorchestra.org for program and ticket information
Breakfast Club Ensemble and Studio 18 Concert
Sunday, March 19
NEW TIME – 5:00 pm
Lipinsky Hall, Room 018, UNCA Campus
Zack Page, director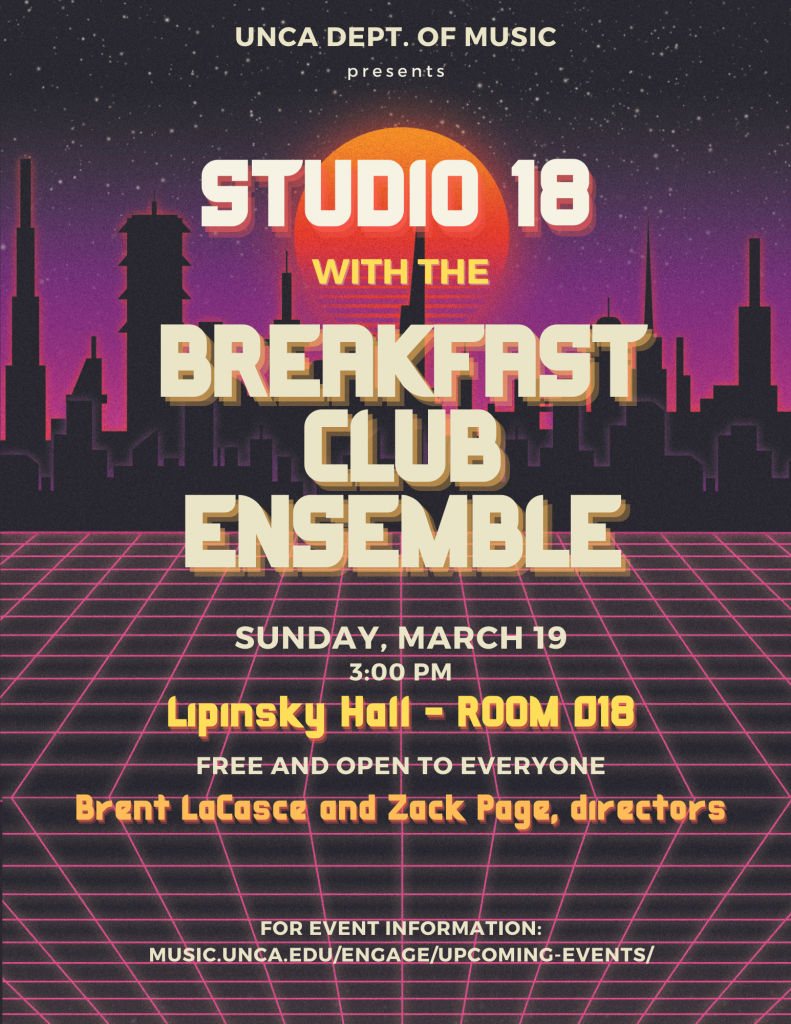 Noontime Classical Music with Dr. Kim series #2
Chopin and His Friends, featuring Franz Liszt
Tuesday, March 21
12:00-12:30 Lipinsky Auditorium
Wind Ensemble Pride Concert – This show has been CANCELED.
Part of the UNCA Queer Studies Conference "Blooming: Metamorphoses and Seasons of Queerness"
Sunday, March 26
3:00 PM
Lipinsky Hall Auditorium
Emily Mariko Eng, director
XTET and Latin Jazz Ensemble Concert
Tuesday, April 4
7:00 PM
Lipinsky Hall Room 018
Justin Ray and Will Boyd, directors
Art Lande, piano
Improvisation Clinic
April 12
Lipinsky Hall Room 018
9:30 – 10:45 AM
Contemporary Guitar Ensemble
Thursday, April 13
7:00 PM
Lipinsky Hall Auditorium/UNCA Campus
Tim Doyle, director
Songwriter's Ensemble Concert
Sunday, April 16
7:00 PM
Lipinsky Hall Auditorium
Emily Mariko Eng, director
Hot Club Lipinsky and The Honky Tonk Ensemble Concert
Tuesday, April 18
7:00 PM
Lipinsky Hall Room 018
Andy Jurik and Toby King, directors
University Chorale and Asheville Singers Concert
Sunday, April 23
4:00 PM
Lipinsky Hall Auditorium
Chuck Taft and Melodie Galloway, directors

UNCA Wind Ensemble and Percussion Ensemble Concert
Tuesday, April 25
7:00 PM
Lipinsky Auditorium
Emily Mariko Eng and Matthew Richmond, director
Class Piano 2 Student Recital
Wednesday, April 26
11:00 AM
Lipinsky Hall Auditorium
Hwa-Jin Kim, Director

UNCA Chamber Ensemble Concert
Friday, April 28
2:00 PM
Lipinsky Hall Room 018
Hwa-Jin Kim, director